Buttock Enlargement Treatments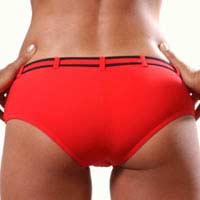 Buttock enlargement treatments have been widely reported in the media as the latest cosmetic surgery treatment. The procedure is often referred to as a Brazilian butt lift, which refers to the shape of the Brazilian women's fuller figure bottom. There are two common surgical procedures that can be used for the enlargement of the buttocks, but silicon implants are viewed as giving the best results.
Why Have Buttock Enlargements?
As with most cosmetic surgeries the main aim is enhance appearance and increase confidence. Many women and men have a desire to change various parts of their body, which is one of the reasons for the rise in popularity of cosmetic surgery at home and abroad. Buttock enlargements can create a curvier figure for women with flat bottoms and help to highlight the waistline to enhance femininity. Enlargements can also enhance the way people look in certain types of tight clothing such as jeans.
Buttock Enlargement Surgery
There are basically two different types of buttock enlargement treatments. One procedure is known as micro-grafting, which is transplanting fat from one area of the body to the buttocks. This procedure is also known as lipo-sculpture, but is usually only recommended to smooth out depressions in the buttocks. Many cosmetic surgeons do not view this procedure as a good option as around 40% of fat is absorbed back into the body. For a more satisfactory outcome most surgeons will recommend implants.
Buttock Implant Surgery
Cohesive buttock implants use a light silicone style of gel, which has good natural adjusting capabilities and is also very strong. These implants are designed to cope with the large amount of stress and strain that can normally occur to this area of the body. Implants should be inserted underneath the muscles in the bottom in order to give a more natural appearance and also feel more natural. It is very important that surgeons take into account the body shape and size of the patient in order to provide the perfect size of implants.
Where To Find Buttock Enlargement Surgeons
Buttock enlargement surgery is hugely popular in destinations such as South America and Thailand, but most UK residents will prefer surgery closer to the UK. Countries for buttock augmentation will include Bulgaria, Spain, France, Croatia and Germany. In fact most cosmetic surgery clinics in Europe will offer this procedure and the price should be lower than can be found in the UK. Prices abroad should be at least a third of the price found for similar treatments in the UK.
Risks With Buttock Surgery
As with any form of surgery there are some risks, which should be discussed with the surgeon prior to surgery. There may be a chance of scarring to the operated area and excessive bleeding can occur in rare cases. Infections during surgery are also rare but do happen from time to time. On the rare occasion that an implant does burst, the shape of the buttock may be altered and further surgical attention will be needed.
Choosing Your Surgeon
Patient safety is vital with any cosmetic surgery and choosing the right surgeon and clinic is important. Undertaking some form of research on both clinics and surgeons abroad will prove beneficial. Medical service providers can be used and they will have a list of qualified surgeons and approved clinics. Always ask as many questions as it takes until you are happy to go ahead with the surgery. Always ask to view your surgeon's credentials and qualifications and ask to speak to your surgeon prior to leaving the UK.
Buttock enlargement surgery has become another very popular cosmetic treatment. It can leave the patient feeling more confident and happy with their new appearance. Safety is important if you are considering any form of cosmetic surgery abroad, and professional medical advice should be taken before travelling abroad for any type of cosmetic treatment.
You might also like...