Medical Treatments in Spain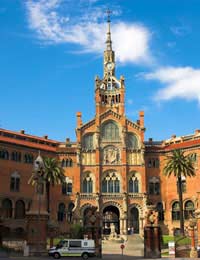 Spain has always been a popular holiday destination for UK travellers; the culture the beaches and the sunshine are all major attractions. Now, British residents have found a new reason to travel to the sunny shores of Spain; to take advantage of low cost, high quality medical treatments.
In recent years British residents have become proactive in their attitude towards their own healthcare, and are no longer willing to leave this important part of their lives in the hands of the NHS. Long waiting lists and the ever growing costs of private medical treatment have seen over 55,000 patients take advantage of the low cost medical treatment options of countries abroad, and Spain in particular is a popular option.
The Benefits of Medical Treatments in Spain
British people have always had a love affair with Spain. Areas such as the Balearic Islands, the Canaries, Barcelona and Madrid are all favourites, not just for holidays but also for buying property and retiring to. In Spain the cost of living is lower but the standard of living is higher, and for this reason, Spain has one of the most highly regarded medical communities in Europe.
When considering having some form of medical treatment abroad, (and the range of treatments available in Spain is diverse), there are a few factors to consider. Included in your medical treatment considerations should be:-
Flying time to your clinic or hospital of choice
Frequent flights to your clinic
Low cost flight options
English speaking staff
Low cost of treatment compared to prices in Britain
Diversity of treatments offered
Recuperative holiday options
Spain is one country that ticks all of the above considerations. There are numerous low cost, frequent flights to all parts of Spain from UK airports, and the flight time is only a few hours. This is particularly important if return visits are needed after the initial surgery or medical treatment. You can of course journey to South Africa, India, Australia or America for medical surgery, but this would add to your total medical financial outlay and the flying time would be much longer.
Costs of Medical Treatments
Many patients from Britain have been surprised to find out the true cost of medical surgery in Spain. Prices vary depending on the surgery or treatment you are considering, but you can expect to save around 30% to 70%. For instance, cosmetic surgery in Spain is around 60% cheaper than in the UK, and orthopaedic surgery, such as knee or hip replacements, are around half of the cost you would pay in the UK.
Total Costs
With the savings you can make on the medical treatments, it makes sense to recuperate while on holiday. Having an operation and then relaxing on holiday is one of the reasons that medical surgery abroad has been such a growth industry. If you are having cosmetic surgery abroad, the operation can be completed in only a few hours, you can then relax on holiday, and let the swelling and bruising heal. Combing some form of medical treatment with a holiday will still leave you financially ahead compared to the cost of one treatment in the UK.
Facilities in Spain
Spain has some of the most advanced medical clinics and hospitals in Europe. The healthcare system in Spain is a combination of both private and public funding. If you actually reside in Spain and pay social security payments, then medical treatment is free. Spanish surgeons are highly qualified and must train for six or seven years before they can obtain their degree in general medicine. Specialist fields of surgery such a plastic surgery will need a further study time of at least five years.
It is important to check all accreditations, qualifications and licences of the clinics and surgeons you are intending to use. Many Spanish surgeons are registered with the General Medical Council in Britain. There should also be an equivalent medical certificate that applies to the country in which you are intending to have surgery. If you are using a medical provider to arrange your surgery, then these checks should already have been undertaken.
Medical Treatments in Spain
The range of treatments is Spain is diverse, and more than equivalent, if not better than those available in the UK. Clinics and hospitals in cities such as Barcelona and Madrid are second to none and treatments and operations can include:-
Cosmetic surgery
Orthopaedic surgery
Elective Surgery
Obesity surgery
Dentistry
Eyesight surgery
If you are intending any form of medical treatment in Spain you should first consult your doctor. Always make sure to undertake adequate research before hand to satisfy yourself regarding your clinic or hospital of choice. If using a medical provider ask whether surgeons from Spain hold seminars in Britain, many surgeons do this, and it will be worth your while attending.
If you have undertaken the necessary research beforehand, then like thousands of other patients from the UK, you should find that travelling to Spain for medical treatment is a positive and rewarding experience.
You might also like...
@PJ - While we can't be seen to be recommending anyone directly there are establishments in the region that provide medical services based on UK Department of Health guidelines. I hope this helps.
TreatItAbroad
- 28-Oct-14 @ 2:52 PM
I am going to stay in Spain for the winter (dec to Apr) and while there I want to arrange to have a privately paid for scan of The main arteries around my heart. Can anyone advise me on how to do this and which hospital I should try? I will be staying near Alicante. Thank you