Post Treatment Complications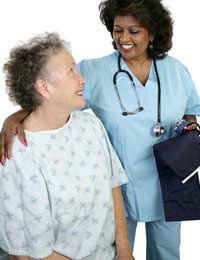 With any type of surgical procedure, whether it is an invasive surgery or a non-surgical treatment, there is always the risk of post treatment complications. If you have decided to have surgery abroad, these risks may be elevated, not due to the surgery itself but to the travelling after surgery. You should always be fully aware of any post treatment complications prior to your surgery.
Travel and Post Treatment Complications
Unlike surgery in your local hospital or clinic, where you should only have a short trip before arriving home, surgery abroad does bring its own difficulties and considerations. One of the most important healing aspects after any surgery is the ability to have recuperative time without any stress or strain. Many people who go abroad for surgical treatments will factor in healing time as part of a holiday in their chosen treatment country. This means that the patient can relax and recuperate in private without any travelling time.
If you have decided to travel home immediately after surgery then this can bring its own post treatment complications. For patients who have had simple dental treatments this may not be too much of a problem. But for major surgery or even some cosmetic surgery, there can be problems when travelling straight away after a surgical operation.
Travel Stress
A key factor in healing after surgery is lack of stress, strain and exercise. If a patient is stuck on an airplane, car, or train for more than a few hours then some discomfort may be felt. They may not be able to reposition their body or face properly, which is an important part of the healing process. Travel usually involves some form of strain to the body, such as walking, lifting bags and standing for long periods of time, all detrimental to the healing process and can add to the risk of post treatment complications.
Travelling has been associated with blood clots, swelling and Deep Vein Thrombosis, all of which will hinder the healing process and increase the risk of scarring to the operated part of the body. It is wise, and surgeons will inform you of the benefits, to factor in recuperative time in the country in which you had your surgery. This recuperative time will dramatically cut the risk of post treatment complications. Also if you are still in the same country while recuperating, it will be much easier to get back to the surgery if any complications, such as infections, do occur.
Post Treatment Complications
The risks of complications after surgery are usually rare but you should always be made aware of the potential dangers of each surgical operation. Consultations with your surgeon before any treatments should include the topic of surgical complications.
Questions to Ask
During your consultation time with your intended surgeon or medical staff, ask as many questions on post treatment complications as you like. These should include:-
The surgeon's recommendations for aftercare
How long is it wise to stay in the country after the surgery?
What will happen if complications do arise?
Are there any costs to post treatment complication surgery – (you should not have to pay any costs for revision surgery)
Will the same surgeon treat the post treatment complications?
Will your doctor back home be able to easily receive information on your surgery?
How long after the surgery will you be able to resume normal exercise?
Who is your first contact if complications arise?
Some Common Post Treatment Complications
Although complications will be different for every surgical procedure there are a few common complications that may occur. These can include bleeding, haematoma, where blood will collect beneath the skin, or seroma, where serum will collect. If there is only a small amount of seroma or haematoma it may be absorbed on its own accord, otherwise it may need to be removed by a needle, or a surgical drainage procedure may be needed.
Infections and Pain
There is always the risk of infection after surgery, and if it does occur then further surgery or a course of antibiotics may be needed. Swelling and bruising is quite normal post surgery and should start to gradually disappear within a few weeks post treatment, although some bruising is known to last for around a month. There will also no doubt be some degree of pain, and this will differ from patient to patient. Surgeons will prescribe medication to help with this pain, but if the pain does not disappear within the recommended time, you should speak with your own doctor or contact the clinic where the surgery was performed.
If you have undertaken your research and had in-depth consultations with your surgeon before surgery, you should be fully aware of any post treatment complications that may arise, and how to deal with them if they do arise.
You might also like...