Belly Button Surgery: Umbilicoplasty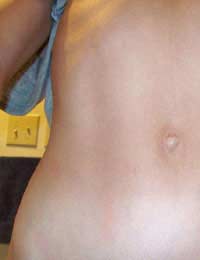 For most people the belly button would not be the first body part that comes to mind when considering body improvement. But many people are unhappy with the appearance of their belly button and do decide to undergo umbilocoplasty to achieve a perfectly shaped navel.
What is Belly Button Surgery?
Belly button surgery otherwise known as navel surgery or umbilicoplasty is a procedure that the sculps the navel into an aesthetically pleasing shape. Where appearance is concerned a number of patients would rather have what is known as 'innie' instead of an 'outie' belly button and umbilicoplasty can be used to achieve the desired result. The belly button or umbilicus is actually nothing more than a scar left when the umbilical cord is cut. Some people can be so self-conscious about the appearance of their naval that will not get undressed in public or wear clothes that reveal the naval. Umbilicosplasty is often performed during cosmetic surgery procedures such as tummy tucks (abdominoplasty).
The Umbilicoplasty Procedure
Belly button surgery is performed using a general anaesthetic to numb the area that is to be treated. The surgeon will cut and reshape the belly button depending on the effect that is desired. This procedure can usually be undertaken on an outpatient basis and can usually be completed in around an hour. The procedure time may be longer if other surgical procedures are needed. It may be the case that a surgeon will have to perform some liposuction or a slight tummy tuck to achieve the desired results.
Scarring and Post Operative Recovery
There will not usually be any scarring after belly button surgery, and this is a mini cosmetic procedure. Any scars will be hidden although bruising and swelling is quite normal. Most patients will be able to leave the hospital or clinic a few hours after the operation has been completed. Recovery time for this operation is fairly quick, usually about a week. Strenuous activities should not be undertaken during the first week of recovery. The patient can return to work and resume light activities the day after surgery has been performed.
Side Effects of Belly Button Surgery
As with any surgery there is always the risk of side effects but umbilicoplasty is a low risk surgery. Any swelling and bruising will disappear quickly during the healing period. There is always the risk of infection when surgery is performed, and numbness and blood collecting under the skin can occur. The belly button can take on a lop sided appearance and if this is the case additional corrective surgery may be required. Pain may occur after surgery but this can be eliminated with the use of painkillers.
Why People Choose Belly Button Surgery
Unhappiness with the appearance of the belly button is the main reason why people choose to undergo umbilicoplasty. Reasons for surgery can include:
The correction of an umbilical hernia
To improve the appearance of liposuction or a tummy tuck
To correct the appearance of the navel after pregnancy, injury or weight loss
To change an 'outie' belly button into an 'innie'
Some people have elongated navels and prefer a rounder shaped navel
Some people do not actually have a belly button from birth and umbilicoplasty can be used to create one
Cost of Belly Button Cosmetic Surgery
The cost of a umbilicoplasty in the UK can range from £800 to £1,500. Having additional surgery along with the umbilicoplasty can increase this price. Umbilicoplasty is a common cosmetic surgery procedure abroad and the price will be reduced. Travelling abroad for a belly button surgery can reduce the treatment cost by as much as 40% to 60%. Anyone who is considering this type of cosmetic surgery can book a week's holiday and have the surgery for less than it would cost for the surgery alone in the UK.
Belly button surgery is a minimally invasive surgical procedure with a quick recovery time and a low risk of side effects. But safety checks should always be undertaken if considering travelling abroad for this type of surgery. Anyone considering undergoing cosmetic surgery abroad should only use qualified cosmetic surgeons who are registered and licensed in the country in which they practice.
You might also like...