Cosmetic Surgery Options After Dieting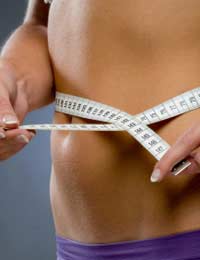 Losing large amounts of weight through dieting can lead to problems with loose and sagging skin. A tummy tuck is one of the main surgical procedures used to correct this common problem.
Excess Skin after Weight Loss
Excess skin can be a big problem after losing weight through dieting. Sagging, wrinkled and loose skin can occur through weight loss and after pregnancy. Sometimes the problem will correct itself and this type of problem will usually occur when there is a dramatic and rapid loss of weight. Skin is very elastic but this elasticity does decrease with age; the older we become the harder it can be for skin to return to its previous taut condition. Factors such as the amount of weight loss, the age of the person who has lost weight and the speed of the weight loss can make a difference to skin elasticity.
Non Surgical Options for Loose Skin
There are some alternatives to surgery that may make a difference to sagging skin after weight loss. The main alternative is a skin cream that is designed to tighten or tone the skin. These creams are costly and are not always effective for severe cases of excess skin. The creams may also be only a temporary fix to the problem. Giving the problem area time to recover may be another alternative although this can take around one or two years to happen. In some cases the skin may not return to its former condition even with additional exercise and dieting.
A Tummy Tuck to Remove Excess Skin after Dieting
A tummy tuck is a common surgical procedure used to reshape and tighten the skin after massive weight loss. The medical term for a tummy tuck is abdominoplasty and this is a major surgical procedure that can be undertaken by cosmetic and plastic surgeons. The surgeon will assess the patient and to see if abdominoplasty is the best solution. The surgeon may actually require the patient to loose additional weight if required; the patient should be the ideal weight to height ratio. Abdominoplasty takes place under general anaesthesia and will usually last between one to four hours depending on the amount of work needed.
What is Involved in an Abdominoplasty
A tummy tuck is an invasive surgical procedure meaning the surgeon will be cutting and removing the skin and excess fat. This may also include reshaping the belly button and tightening the abdominal muscles. Patients will be required to sign a consent form prior to the abdominoplasty. The consent form is simply to verify that the patient is aware of the risks involved with the surgery and has given permission for the surgery. Patients should expect scars after the tummy tuck and pain is to be expected, although pain can be eased with the use of painkillers.
Cost of Abdominoplasty
Abdominoplasty performed by a cosmetic surgeon in the UK can cost between £3000 and £5000 depending on the extend of the surgery. Price for this surgery abroad will be significantly decreased and can range from between £1300 in countries such as Lithuania and £2100 in Turkey. It may be the case that abdominoplasty can be performed as reconstructive surgery by a plastic surgeon. If a doctor does refer a patient for this type of treatment it can be available through the National Health Service or through private medical insurance. There will be eligibility rules regarding having this treatment through the NHS or medical insurance and a doctor's referral will be a requirement.
Healing Period after an Abdominoplasty
The recovery period for abdominoplasty is usually around 10 days to two weeks, but this will differ from patient to patient. There may be some pain during the healing period and painkillers will normally be prescribed by the surgeon. Dressings will be required during the healing period and a support garment may be required for up to six weeks. Side effects are minimal, and bruising, swelling and numbness are not unusual. Scarring will usually fade within a few months after the surgery.
An abdominoplasty is a major surgery and discussions with the surgeon will be required in order to assess all the risks and expectations. The desired results of a tummy tuck are usually excellent and this is a long lasting treatment. As long as a healthy diet and exercise regime are maintained there should be no reason for any additional surgery of this type in the future.
You might also like...