MRI Results - Can I take these Abroad?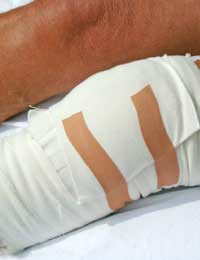 Q.
Due to a knee injury, I have recently got a MRI in the UK; however,I would like to consult an expert in France and have surgery in France.
Is it possible to have access to the MRI I did in UK and take it with me to France for my consultation?
(Mr Jerome Berge, 9 December 2008)

A.
Medical Treatment Abroad
Going abroad for medical treatment has become more popular than ever due to long NHS waiting lists and the low cost of professional medical treatment abroad. Obtaining an MRI scan in the UK on the NHS can be a long process. However, even when the MRI scan has actually been undertaken getting the scan analysed can also be a long drawn out process.
MRI Scans In The UK
A number of private medical centres in the UK actual send their MRI scans abroad for analysis to reduce the results waiting time. Private medical practices do this because there is a shortage of radiologists in the UK and the process can be less expensive. Many patients who are considering knee surgery abroad will actually include an MRI as part of the treatment package. But as you have already had your MRI in the UK the results should be accessible to doctors and surgeons abroad.
Access To Medical Records
If you are going to go ahead with any type of surgery abroad you should consult your own doctor in the UK. They should have details of the MRI scan and the analysis of the scan. In most cases the records will be kept on a CD format and there should not be a problem sending it to your chosen medical clinic abroad.
You do of course have a legal right to access any personal medical history records held by your doctor. You should give your doctor in the UK as much time as possible to obtain your MRI scan results as they may not actually be stored at the surgery. It may also be a good idea to obtain a copy of your full medical history to be sent to the clinic abroad.
Medical Providers
If you are using a medical provider to arrange your treatment abroad then they should be able to provide details of the medical records they will need. The medical provider will also be able to inform you if there are any other pre-treatment tests that can be performed in the UK. Sending these results abroad before treatment will help the surgeon abroad to decide on the best course of action with regards to surgery. It should also speed up the treatment process and may save on overall treatment costs.
You might also like...